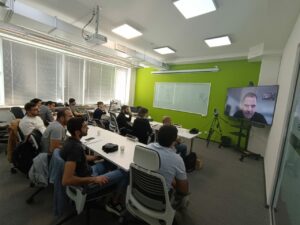 Thanks to AESA's invaluable support, the Masters of Science in Aerospace Instrumentation program has achieved a resounding success! Thirteen highly qualified students have met the rigorous entry criteria and are wholeheartedly committed to the demanding 2-year program. Furthermore, a wide array of cutting-edge research topics has been meticulously curated and disseminated among the participants.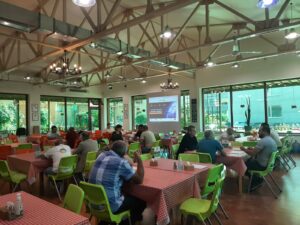 On the memorable Saturday of September 16th, the program received distinguished representatives from renowned industry giants, including Bazoomq, National Instruments, Yerevan Aerospace Engineering, Aerodynamics, and Davaro. These esteemed experts took the stage to unveil an array of potential research topics, captivating the audience's attention throughout the day as they engaged in spirited peer-review sessions.
Eager students actively participated by casting their votes for the projects that piqued their interests, leading to an exciting matchmaking process. In a truly serendipitous turn of events, the resulting matrix revealed a harmonious alignment between the student's preferences and the companies best suited for their chosen projects, creating a partnership that promises to be nothing short of extraordinary! Select students met with their research topic advisors at the steps of the Space Museum at the Engineering City.
We extend our heartfelt gratitude to Marina Saguinian and Andranik Aghadjanyan for their leadership in spearheading this program. Additionally, we'd like to acknowledge the valuable contributions of our Board Members, Aram Ter-Martirosyan and Nareh Saghatelian, who also serves as the Committee Chair of the AESA Scholarship Committee.
If interested in supporting this program, please consider donating at aesa.org/donate.