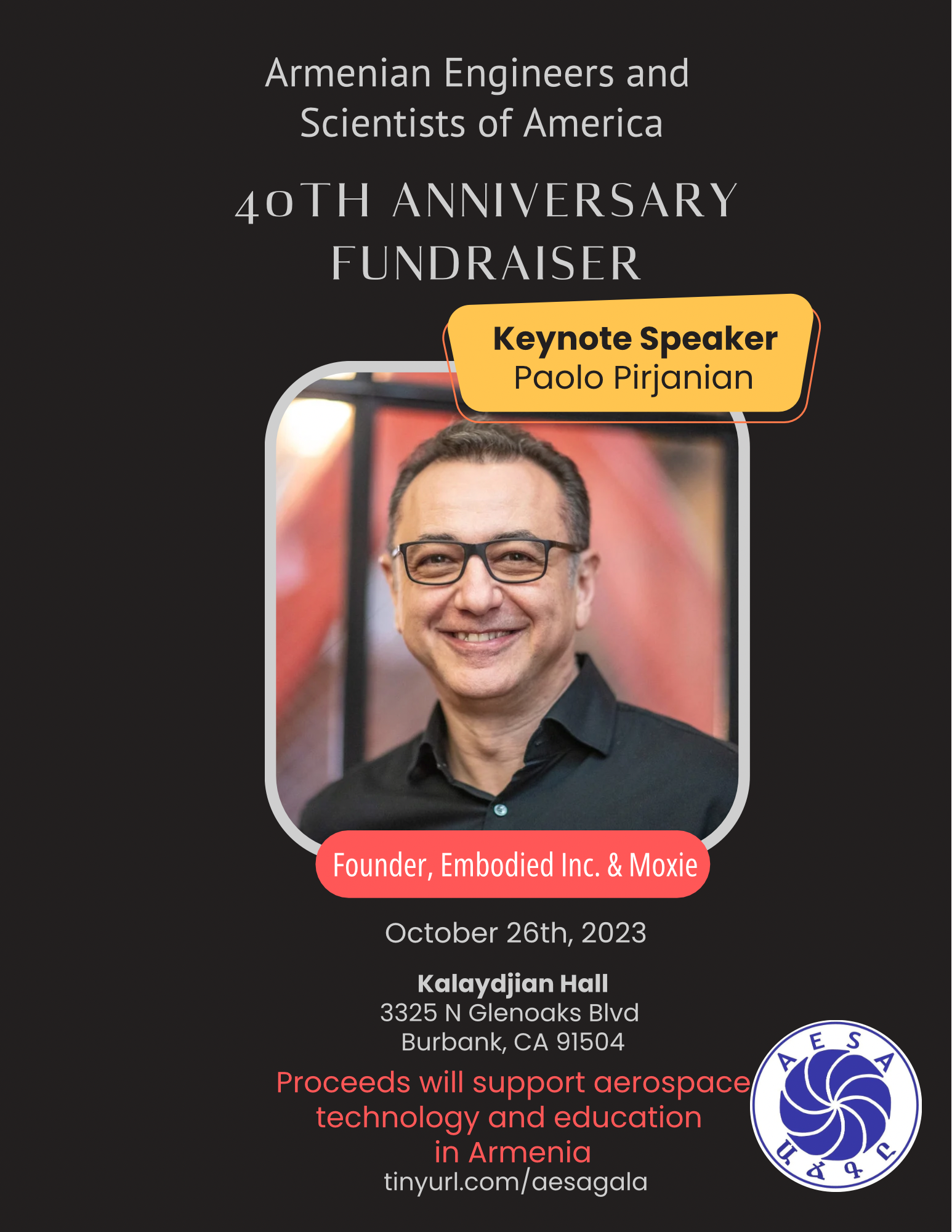 In light of recent developments in Artsakh and Armenia, we find it necessary to make an important update regarding our upcoming 40th Anniversary Gala. Instead of the previously planned gala, we have decided to pivot and host a Fundraiser on Thursday, October 26th, 2023, with the sole purpose of supporting critical Aerospace Technology and Education Programs in Armenia. This decision has been made in response to the urgent appeals and requests from various ministries, consulates, and organizations operating on the ground. As an engineering, scientific, and technical organization, we believe that redirecting our efforts toward this cause aligns best with our mission and commitment to our homeland.
The fundraiser will take place at the prestigious Kalaydjian Hall, where we will have the honor of presenting the esteemed Victor Hambartsumyan Award to Paolo Pirjanian, the visionary founder of Embodied, Inc. and Moxie. Mr. Pirjanian's pioneering work in robotics and technology exemplifies the innovative spirit we aim to celebrate and support through this event.
We kindly invite you to be a part of this important initiative by either attending, sponsoring, or making a donation. Your presence and support will contribute to the success of this fundraiser and help us make a meaningful difference. We look forward to coming together as a community to champion this noble cause and continue our commitment to advancing Armenia's technological and educational landscape. Together, we can make a lasting impact on our country's future in these crucial areas.
For further information, sponsorship opportunities, or to RSVP, please contact us at contact@aesa.org. For tickets to the Fundraiser, please click here: https://www.eventbrite.com/e/692011002537
Please note:
Non-Member tickets are $200
AESA Member tickets are $150
Student tickets are $75
Thank you for your unwavering support, and we look forward to your participation in this momentous event.
– AESA Team